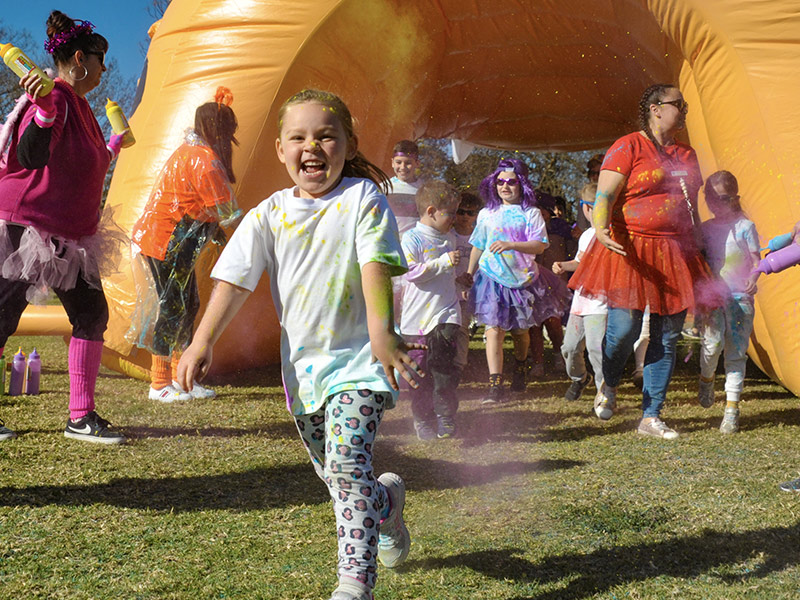 Principal Donna McFadzean and teacher Tara Cremen with 'The Melons. Photo: Megan Dunn.
'Uniqueness' celebrations aim to ensure fellow kids feel accepted at school. Senior students from Our Lady of the Way Primary School in Emu Plains have kickstarted a term-long Uniqueness Celebration.
The activities were created by a group of Stage 3 girls nicknamed 'The Melons' to convey the message that all kids are unique, regardless of their ability and disability.
Teacher Tara Cremen said the students have put in a lot of effort to create different events for the school each week. "This all started because we have a lot of children with special needs in our school that require different things and the girls wanted to make sure that everyone knew that was OK and felt included," Ms Cremen said.
"They have put in so much effort in giving up their lunch breaks to plan the activities and putting themselves out there to get the whole school involved, which is wonderful to watch."
Kicking off with a crazy colour run, the students get to have crazy hair and socks days, wear pyjamas and put on a talent show. Layla, who is the only Year 5 student in the group, will help continue the celebrations next year.
"It has been fun planning so everyone knows they have a place in the world and can feel comfortable with the people around them," Layla said.
"Whether it is a mufti day or us putting up motivational posters everything has a message that being unique is great."
Our Lady of the Way Principal Donna McFadzean said she is extremely proud of her students' commitment to being inclusive.
"Your goal as an educator is to produce people who are in touch with their emotions and can contribute to society and listening to these girls makes me teary," she said.
"We are a Catholic school and Mary MacKillop always said, 'never see need without doing something about it and our students live this out every day through their heads, their hearts and their hands."
---
Discover what Our Lady of the Way Primary School in Emu Plains offers your child